Year 1 Expertise Area Development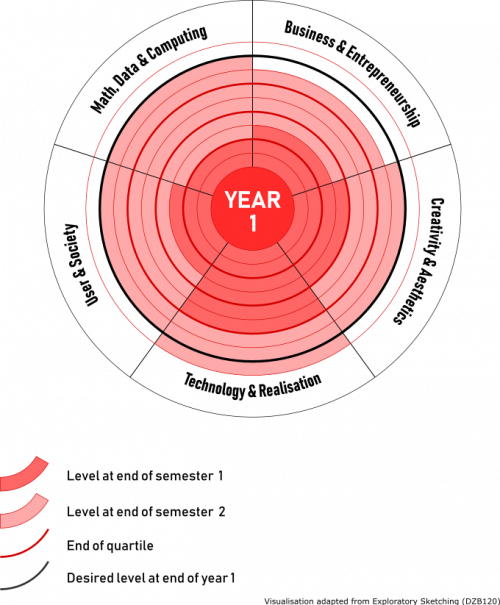 Business and Entrepreneurship
PDP goal: devise a marketing strategy
This expertise area is the one I developed mostly outside of my studies in my capacity as co-founder of a language institute: www.de-taalkamer.nl. My main role there is to develop new teaching materials, among which an online learning environment that we're currently jointly creating with a prominent hogeschool in the Netherlands. One of the biggest responsibilities of being a business owner is constantly recognising new business opportunities and acting on them.  I've learnt how to develop new concepts quickly and keep the clients in the loop about the progress we're making. I've also been improving on my skills of preparing and conducting high-stakes business meetings without becoming nervous or flustered.
In the TU/e projects, my main contribution in this area is my skill at identifying outside experts and interviewing them. However, being a self-taught entrepreneur, I have less experience drawing up marketing plans and such. To amend this, I worked on creating a business strategy with one of my team mates in Project 1. By doing this, I am now more confident about positioning new products in the market and doing business research for design products instead of just language services.
Books I've read on the topic: Nine Lies About Work
Currently reading: The Mythology of Work, Start with Why
Creativity and Aesthetics
PDP goals: learning about material explorations (aesthetics), reading brainstorming books (creativity), and learning InDesign (aesthetics)
One of my main areas of interest in the ID degree is designing through form. In Exploratory Making, I discovered how to prototype more rapidly and really explore products through their form instead of just through sketching out ideas. It was interesting, and confronting, to see that my more complicated designs sometimes brought about a user experience different to what I had envisioned, but this taught me to start building and iterating early in the design process.
In terms of creativity, I grew in how I approach the research process. During the quarantine, I explored the possibilities of embodied validation for our project, finally using time lapses multiple times to analyse the working of our product. For Project 1, I also really pushed myself to explore different foldable structures and what we could gain from them.
Books I've read on the topic: Thinkertoys, Folding Techniques for Designers, Thinking with Type
Currently reading: Engineering Design Methods, The Elements of Typographic Design
Technology and Realisation
PDP goals: focus more on using open source software. I will make sure to use software like Inkscape or Gimp for at least a 3 deliverables in Professional Identity and Vision in year 1.
In most of my courses this year, I was in charge of Technology & Realisation. All these projects have taught me that a solid vision of the design helps me avoid just adding on technology instead of rendering it an integral part of the design. To further develop this vision, I'm continuously adapting my Personal Development Plan and asking for feedback from others in the field of design, which helps me obtain a better understanding of what I think design should be and how Technology & Realisation can help me foster those values, such as sustainability through circular design.
The most important thing I learnt this year is that a key strength of an industrial designer is communicating and collaborating between different fields. For example, during quarantine, I learnt how to prototype electrical circuits online in a team of two. This way of collaborating was new to me, but proved incredibly valuable. This introduced me to the idea of asking feedback more broadly, both online and offline, and I'm now putting more of my designs on Thingiverse to support the open-source philosophy, as well as regularly posting on my design Instagram. I'm discovering that putting your designs out there makes it easier to receive feedback and grow, as well as discover wonderful designers.
Books I've read on this topic: The Elements of Mechanical Design
User and Society
PDP goals: user tests about materiality and seeing how people respond to certain textures or interactions. Applying data analytics to user data.
User & Society is an expertise area I'm already partly familiar with through my training as a language teacher. As a teacher, I'm sensitive to different cultures, and find it important to show empathy, respect, and interest in students' lives. However, I realise that I need to do more than just apply this experience one-to-one to design to become a good designer.
This is why I decided to dive into design research methods this year, and get a good grip on user-centred design research. In Project 1, I applied this through the analysis of multiple questionnaires and user interviews. I used this qualitative and quantitative data to look for trends with data analytics in Python (I created my own Jupyter Notebook) and we later used it to validate our design choices, ultimately producing a strong concept.
Books I've read on the topic: Seductive Interaction Design, Make It So: Interaction Design Lessons from Science Fiction, Emotional Design
Math, Data and Computing
PDP goals: interpret data and analyse it using Python. Combine my knowledge of Python with Raspberry Pi by building an 'unconference kit'.
Although I was initially afraid this would be my weakest area, I discover I very much enjoy finding the maths in my projects. I find that this expertise area combines very nicely with Technology & Realisation, for example in writing clean code which applies trigonometry correctly to create a parametric 3D model that can be printed.
In terms of Raspberry Pi, I've become more adept at command line, writing code in Python, and using electronics in combination with a Raspberry Pi all through extracurricular activities. I organised two Python courses and as part of a team I'm designing an 'unconference kit' for a cooperation that I'm a member of: http://planb.coop/.
Books I've read about this topic: Clean Code
Year 1 Personal Development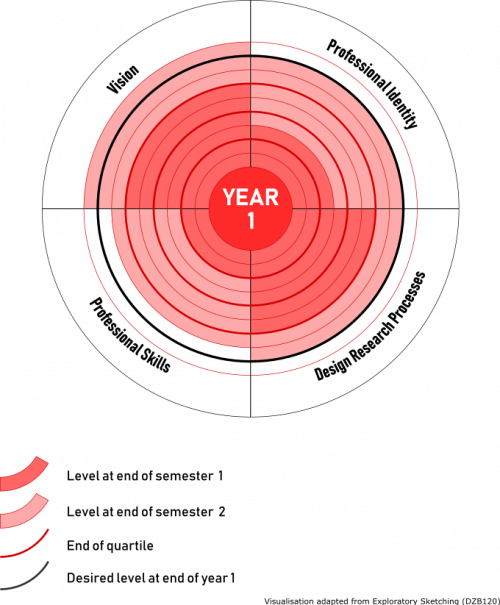 Vision
Coming to this degree, I had no idea I would need to develop a professional identity and vision. Initially, I thought writing a vision would be very difficult, but just getting a draft started and then revising many times ultimately helped me whittle down on the essentials and get a fairly decent grasp on where I want to go as a designer. From my work experience, I already know what my values are in my professional life. However, I discovered while writing my vision that what attracts me to teaching is not necessarily explaining things to people, but rather focusing on the individual and trying to have a meaningful impact on a person's life. I think this insight is what will drive future revisions of my vision as I further discover what kind of designer I want to be.
Professional Identity
Although I initially thought that writing my identity would be easy, this proved to be more difficult for me than I anticipated. This is mainly because I have a fairly good idea of who I am as a person (and who I want to be!) but not who I am as a (fledgling) designer. Nevertheless, I gained several valuable insights from Project 1 and quartile 4 in particular. I know now that I can tap into a big professional network, and that I network easily, even in times of corona. I also learnt that I am very much a generative designer who enjoys building on the fundamental side, which means I don't necessarily care what the application of my build will be; I just want to discover if I can build it. This knowledge has helped me chart the waters of group project work where my approach ensures rapid realisation of a design, but it can hinder the formation of a good understanding of the problem space and the design direction. Going forward into my second year, I'm glad that I've come to know myself better as a designer so that I can communicate my strengths and weaknesses more clearly in a group setting.
Design Research Processes
Having already obtained a BA and MA (research) in English and Literary Studies cum laude, I'm fairly proficient at doing research. Because of doing a research master's, I'm comfortable applying different theories and methodologies to my research subject. However, I don't have much experience with design methodologies yet. To amend this, I started reading a lot of books on design but I found it works better for me to just go through the research process and discover how to apply certain methodologies. In my second year, I need to pay more attention to this, as this is the area I now feel least confident in. I'm hoping I will get into the USE learning line Responsible Innovation for the World as this learning line will offer me the chance to work with a company for 3 quartiles and directly applying the design methods we learn about during the 'power hours'. 
Professional Skills
This area was perhaps the most difficult one for me as I had to walk a tightrope between successfully cooperating with students who are just entering their first professional experience, and holding true to how I believe professional collaboration should be conducted. I need to be very careful that I don't pull too much work towards me, but also that I don't get assigned too much work because people think it's easier for me. I do realise that this will become easier as I progress through the degree and we all become more experienced, but it is something that will need to pay close attention to.
Overall, though, I think my professional skills don't need much polishing as I've been a language teacher for the past 8 years now, running a language institute for 5 of those years. Especially combining my studies with a job requires solid planning skills, and so far I've been able to juggle the two successfully.